Blue Devils Lacrosse Players Commit to D-3 Schools
Two of Leominster's own athletes Evan Falandys and Kobe Louang have recently committed to D3 colleges for Lacrosse.
Kobe Louang has committed to Rivier College . Louang is playing his first season for the Blue Devils as he was previously playing for the rival Fitchburg Red Raiders.
Kobe has been on varsity the past three years and was a T&G All-Star last season. He had an outstanding season with 33 goals and 22 assists in just 10 games. When asking Kobe why he chose to play for Rivier College he said "It was the college that wanted me the most and felt like home."
Kobe began his lacrosse journey in 5th grade. He said "I previously played football but I lost my love for the sport, so I began playing lacrosse and have been playing ever since. Kobe has matched up against his new teammate Falandys the past three seasons when playing for Fitchburg.
When asked how he feels about playing Falandys he said "I look forward to practicing with him. We've been friends for a long time, so the connection will be there this season." Kobe is a senior entering his final year of high school lacrosse and he said his goals for the upcoming season are "To make the T&G Allstars once again and most importantly, make a big playoff run.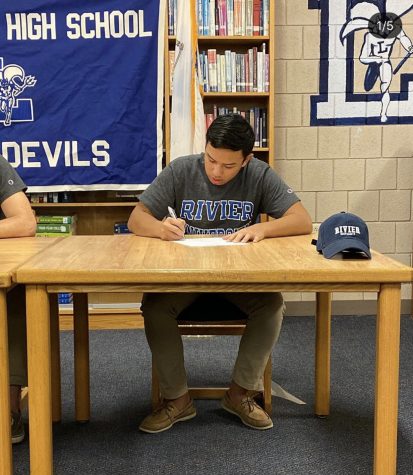 LHS Senior Kobe Louang signing his commitment letter. Photo taken by Liam Connacher
Evan Falandys has committed to Curry College.
Evan has been playing goalkeeper for the Blue Devils for the past three seasons. Evan had a great season last year having a 65% save average and making the T&G All-Stars.
When asked  why he chose Curry College, Eban said "It was close to home, I have a great opportunity to start and it's good for my major."
Evan began his lacrosse career in third grade. "I played baseball before and wasn't fond of it. Once I began playing lacrosse I instantly fell in love with the sport," he said.
When asked how he feels about playing alongside Kobe Louang he said "I'm glad I'm playing with Kobe. As long as he's on our side, I'm happy. One less person to worry about playing on our schedule."
Evan has been named captain of the team and is looking to have a memorable senior season. Evans said "I'm trying to get at least 250 saves and make first team all league."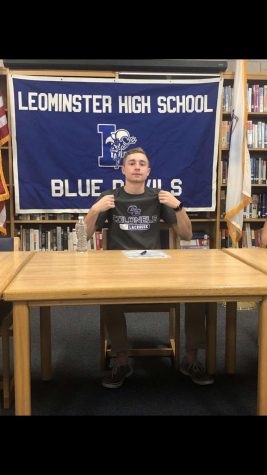 LHS Senior Evan Faulandys on signing day. Photo taken by Liam Connacher
The Blue Devils are in good hands with Louang and Faulandys leading the team.