SIGNING DAY AT LHS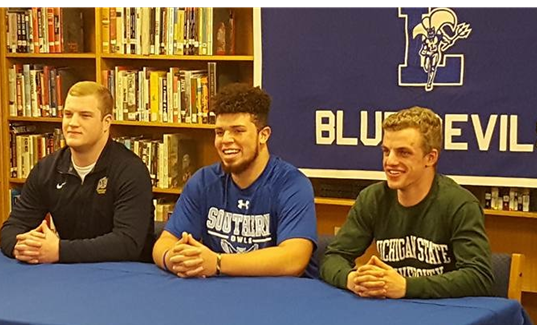 Hang on for a minute...we're trying to find some more stories you might like.
By Clovis Anokye — On April 3 in the Leominster High School media center, Anthony Dandini (above left), Dylan Tanner (above center), and John Gove (above right) all signed to a college to continue their athletic career at the next level.
Anthony Dandini committed to Merrimack College to continue his career playing Division 2 Football. Dandini will most likely play the tight end position.
Dylan Tanner committed to Division 2 Southern Connecticut State University to most likely play as a linebacker.
John Gove, a nationally ranked track star from LHS is going to continue indoor and outdoor track at Division 1 Michigan State University. Gove ranks among the nation's top 600-meter runners. He earned this recognition with his performance at the Division 1 state indoor track and field championships
Alongside the success in track, Gove was also captain for the varsity soccer team playing center back and started all four years.
These athletes join Noah Gray, Leominster's star quarterback, who earlier this year held a signing ceremony where he committed to Duke University.