The Voice's Braiden Sunshine Performs at Leominster High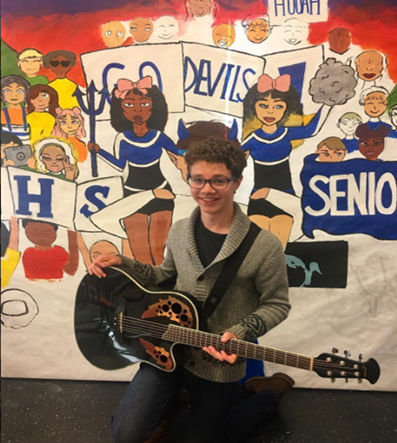 By Jonathan Mackie —Braiden Sunshine, who was a semi-finalist on Season 9 of reality TV singing competition "The Voice," performed a small concert set with some motivational speaking for students at Leominster High School on Thursday, May 11.
Loud screams from teen girls could be heard as Braiden entered the stage and they continued throughout his performance.
Braiden performed his blind audition song from "The Voice": "The Mountains Win Again", originally by Blues Traveler; a cover of Ed Sheeran's "The A-Team", and a couple original works from his current EP.
In between the first two songs and at the very end, Braiden shared his experience going to "The Voice" auditions, saying he hadn't even been planning to tryout but his Mom tricked him into it.
He described how much of a great opportunity it was to be on the show and how the show was very supportive, and not the super-competitive type of setting most people would believe it is.
Braiden also answered some audience questions about the celebrity hosts he worked with, including Gwen Stefani and Adam Levine, both of whom he said he likes a lot.
Motivational speaking isn't something Braiden considers himself very good at, but he went on to inspire students regardless with his speech about being able to accomplish anything if you try and put your mind to it.
Despite his loss on "The Voice", Braiden has had the opportunity to perform with Styx and Blues Traveler live on stage and he is now touring with a new album on the way and he couldn't be happier.
Following the concert, some members of the audience were able to get pictures with Braiden.
A few lucky chorus students also got the opportunity to sing with him after the concert ended, when he stopped by the Chorus room.