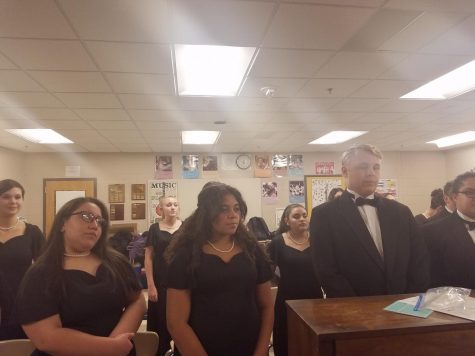 The Annual Fall Veteran's Day Concert by the LHS Chorus  arrived yet again and exceeded expectations.
On Thursday November 8th, the LHS auditorium was standing room only with people lining the walls and standing in the aisles.
The LHS chorus, along with the two middle schools' choruses kicked off the night with the National Anthem. Shortly after the "National Anthem" came the song about the branches of the military. Halfway through the song, it began to transition from the branches to "God Bless America."
The Veterans' chorus performed "This is America" to tears and the loudest cheers of the night.
The elementary schools then came up and began performing "Yankee Doodle Dandy" and the audience was very hyped up,  clapping, waving flags, and even dancing with their kids in the aisles.
The last song was performed with over 200 kids on the stage for a performance of "My Country Tis' Of Thee".
LHS Freshman and chorus member Madeline Siciliano explained her opinion on this year's fall performance. "It was wonderful, especially the kids waving their flags in celebration."
She added "I was told that there might be a lot more people than last year, but to see everyone standing along the walls and aisles, I was able to see the extra spirit. It was amazing."