Review: 2019 Super Bowl Halftime Show: A Super Waste of Time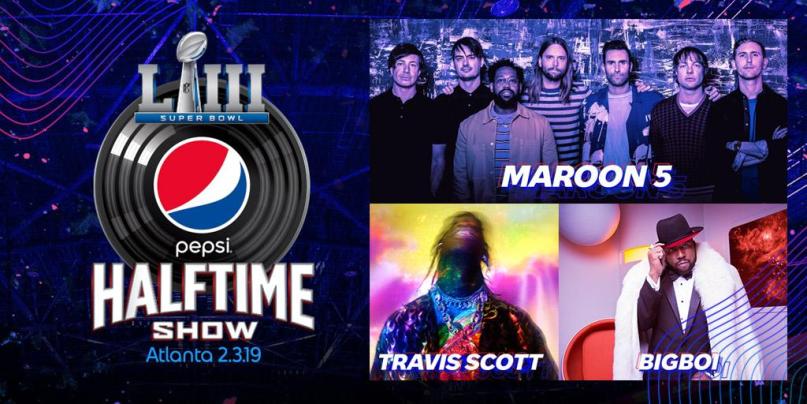 Super Bowl LIII, held at the Mercedes-Benz Stadium in Atlanta, invited Maroon 5, Travis Scott, and Big Boi to perform; creating a show that can be described in one word: Pandering.
Already, Maroon 5 is arguably one of the most washed-up bands that at one point had passable, catchy hits, but are now only cranking out music to keep Adam Levine's name relevant.
Travis Scott seemed to be asked to perform mainly because of his ties with Kylie Jenner, along with his most recent, insufferably over-played hit, Sicko Mode. 
The beginning bit where they cut to Spongebob in the fishbowl on the famous Spongebob Squarepants episode 'Band Geeks' was an aspect that I could only imagine the people who put this event together thought they would be praised for. However, it lasted a whole 15 seconds and was the saddest attempt at accommodating the millennial/Gen Z generation that I have ever witnessed.
The majority of the show was spent mainly on Adam Levine singing ballads, because he must have forgotten he was performing at the Super Bowl rather than a local coffee shop. It's entertainment, be entertaining!
Big Boi had about the charisma of a ham sandwich, which left Travis Scott's piece to end up being the only semi-okay song that the whole show had to offer.
All in all, this halftime show was bland uninteresting to the eye. Compared to other halftime shows where the stars actually refrained from looking bored on stage, this one did not live up to expectations. 
Like the Ram's final field goal attempt, this one's a big miss.