MUSIC REVIEW: DEATH RACE FOR LOVE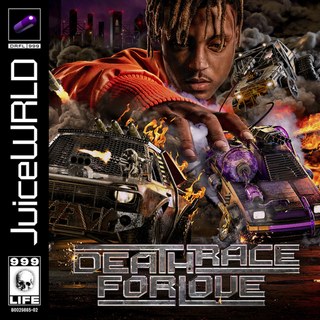 Jarad Higgins, known by his rap name "Juice WRLD," boomed onto the music scene in 2018 after songs "Lucid Dreams" and "All Girls Are the Same" blew up on SoundCloud. Quickly after, Juice WRLD would drop his first album "Goodbye & Good Riddance".
His songs often revolve around one similar topic, love. Mostly failed love. As the title of his sophomore album suggests, "Death Race for Love," he's now back in the search for love.
Juice shows his great versatility in his new album "Death Race for Love." His mixing of melodic rap songs with a little bit of emo, jazz, and rock music, the album is for sure to have something to intrigue everyone.
"The Bees Knees" includes a rare flow, where Juice WRLD switches flows from rap to jazz mid-song.
"Ring Ring" is an example of a rock-based song.
Songs "Empty" and "Who Shot Cupid" are examples of songs that could have been on his first album with their sad, melodic tones.
The album is also based around his idea of 999, turning any hell you're in upside down. He raps and sings about his quest for love. He hints to this in songs "Desire," "Won't Let Go," and "She's the One," that he may have found it. The beats in these songs are much more upbeat and give a much happier vibe.
At just 19, everything has been escalating and coming together for quickly for Juice WRLD (Jarad Higgins). He tells parts of his journey in the songs "Fast" and "Maze," giving his listeners insight into the fame and glory that has suddenly surrounded him.
Juice WRLD tried to give his fans a little something of everything in this album. His goal was to "turn the WRLD upside down" with this album as he said multiple times on his twitter.
The versatility will really appeal to any avid music fan, and could start to lead a bit of a reform in the modern rap scene.
Score: 9.99/10