Pippin Wows at Leominster High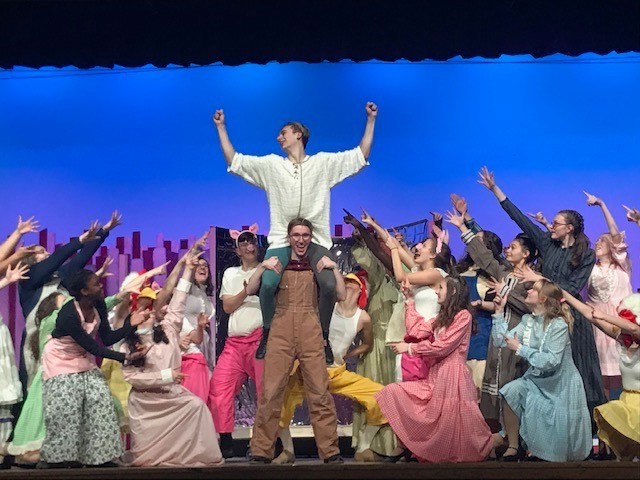 The Leominster High School Theatre Company recently performed the musical  Pippin. . 
The play is a story about a boy, Pippin, who is looking for something fulfilling to do with his life. So he goes searching for it. He tries many different things and brings the audience  on an incredible journey doing so.  
Pippin is a part of the royal family. He's the son of the King and his stepmother, the Queen, and he has a stepbrother Luis. During his journey, he meets a woman, Katherine and her son Theo. But, one of the most important characters is the Leading Player.
The Leading Player was played by Marilyn Wilson, and Pippin was played by Elijah Corbin; both Juniors at LHS. Their singing gave you chills, and their acting made you forget about your life because you were so drawn to them. 
Elijah Corbin & Emma Waterhouse's scene  took  1st place in the Massachusetts Educational Theatre Guild's Scene Partner Competition. If you missed the musical, they will get to perform their scene again at State Finals in Boston in March.
The set was very clever, and well put together. In the center of the stage, there was a circular platform with a wall around half of it that spun around, creating tension in the audience when they became hidden. 
There was not one part of this play that wasn't good. The songs were beautiful, you even got to sing along with one of them. The dances were so clever and entertaining. The acting was unbelievable. We have some serious talent at this school. 
The play itself was so well put together. At first, it can be a little bit confusing, but as the play went along all of the pieces fit together like a puzzle, and everything made sense. 
The crowd was very engaged with the show. There were many moments in the play where the actors had to wait because there was too much laughter from the audience.. The jokes made were hilarious, and anyone who saw it would agree. 
When it was all said and done and the actors bowed, the audience applauded so loudly I couldn't hear myself think. 
Overall, this production was excellent. It was different than the other plays we've had at this school and it was breathtaking. You couldn't take your eyes off the stage, it was just too good. I could watch this play 100 times in a row and still see new things and have a different view on it every time.