Starting Senior Girl's Volleyball Player Overcomes Unique Challenge
LHS Senior Rylee Levine was faced with unexpected news at the beginning of volleyball season. She was diagnosed with severe scoliosis two weeks before her season started. 
Before knowing about her scoliosis, Rylee danced for eight years and played baseball for three years. But it was the diagnosis that almost ended her short lived volleyball career. 
Rylee tried out for and was cut from the volleyball team both her freshman and junior years. But she was determined to be a starter. She managed the team her junior year and was able to practice enough to earn a starting spot senior year.
Would that diagnosis sideline her? No.  After being cut from volleyball twice, she wanted it even more.
Rylee, who wears number four, plays in the back row and is a server. Her favorite move to pull out during a game is the dig, which is when an opposing player spikes the ball and you must go down low to the ground to hit the ball up in the air.
Talking about her back during a game she said that, "It gets sore just like any other athlete". 
She has severe combined scoliosis which she says doesn't bother her until it hurts.
Rylee's type of scoliosis causes her back to have an over twenty percent "bend" or "curve" in three different places although it is straight from the side.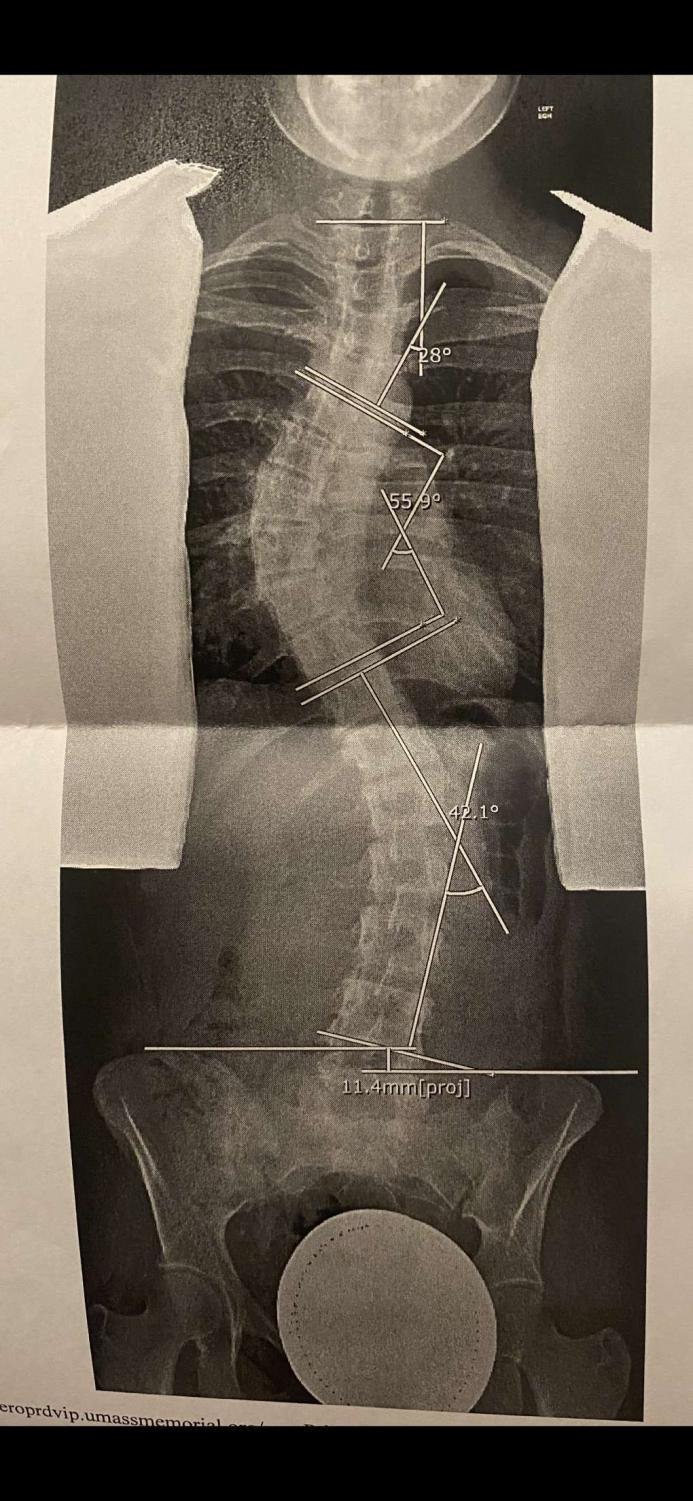 The x-ray image of Rylee's spine. (Photo courtesy Rylee Levine)
There really isn't a way doctors can fix her spine as the Worcester specialists said they don't want to risk anything during surgery since straightening her spine can result in stretching her skin and adding a few inches.
Still she was cleared by the doctors to play.
When asked  how he felt when he found out about Rylee, Coach John Antonetti said "I was shocked, surprised, and concerned about her," but he added he had been taking precautions to ensure she was ok. "She is fully able to play" and she can continue with her life in volleyball.
 "I am managing the team next year," Rylee said when asked what her plans are for after high school.
She will have some procedures down the road, but until then she enjoys the nickname her friends have given her. She is "sitting curly."