REVIEW: Cobra Kai Season Four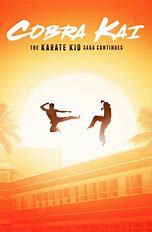 For all of the Karate Kids fans out there, if you have not seen Kobra Kai on Netflix, I recommend it.
The show has been out on Netflix for 4 seasons now and is very good. No season is a bad one.
Each season has 8 episodes that are approximately 30 minutes long. So, if you get that interested in the show, you can binge watch it in one day.
The best part about the show is that it's not just about Jonny and Daniel the whole time. They bring back the characters from the original films: Karate Kid 1, 2, and 3.
The series is about the same main characters from Karate Kid, but around 30 years into the future. The difference is people like Johnny and Daniel are now teachers instead of students.
This series is not just entertaining but also has many funny moments throughout the episodes. It has a lot of drama two. They show the new generation being taught.
I highly recommend this series and if you watch the series but haven't seen the fourth season, I recommend it to you. It may not be better than the other seasons, but it's not bad.