Don't Look Up – A Not Far-Fetched Film About Our Self-Destructing Tendencies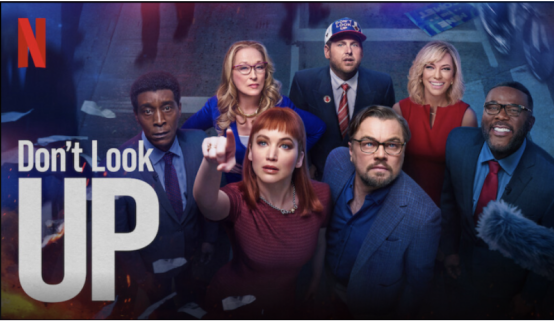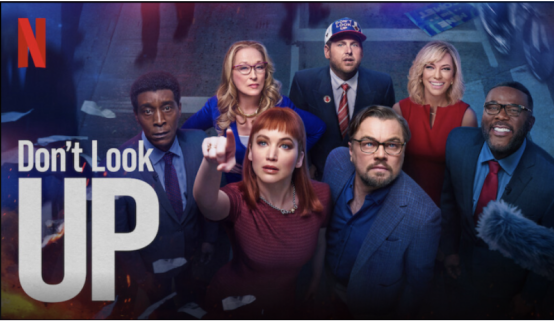 Directed by Adam McKay, the movie Don't Look Up, follows a young graduate student from Michigan State and her professor as they discover a comet hurtling towards Earth, threatening to end all of humanity. In what many would consider a Hollywood super-cast, this Netflix movie features Jennifer Lawrence as college student Kate Dibiasky, Leonardo Dicaprio as Dr. Randall Mindy, and Meryl Streep as President Janie Orlean of the United States. There are also key appearances from the likes of Ariana Grande, Cate Blanchett, Jonah Hill, Timothee Chalamet, and Kid Cudi. 
After Kate Dibiasky and Dr. Randall Mindy discover this comet described as a "planet killer," they are forced to go on a media tour to warn humanity of what is to come. However, they soon find that getting people to care about this disastrous news is going to be far from easy. Dealing with the frustrations of being ignored, treated as crazy, and not being taken seriously by our own government, Dibiasky and Mindy are in a race against time to try and save the planet, while others remain oblivious to the inevitable danger. 
This film basically embraces and dramatizes the things Americans are known for. The writing for this movie was satire, yet scarily not far- fetched from current reality. It highlights our tendency to give a platform to the least qualified people in the most serious of situations. Much like how we as a country handled the covid-19 pandemic, and how we are currently handling a climate crisis, this movie showed us that we truly turn every matter into something political, or a conspiracy theory. Including science.
It is hilarious how true Don't Look Up is to our real world, but also terrifying, watching it unfold from a third-person perspective. It makes you wonder if this is really how humanity would react if, God forbid, we ever hear such news. From the top one-percent wealthiest people in the world and their companies trying to profit off of anything and everything, including the downfall of our planet, to the mass media and politicians focusing on maintaining a good public image, entertainment, and distracting us from the real problems we face, Don't Look Up addresses it all with humor.
With a star-filled cast, I had high expectations for the actors in the film. These expectations were met and exceeded. The cast members did a phenomenal job filling the roles of characters who are much like the actual people, politicians, and celebrities in America. Each character in the film was clearly meant to poke fun at how people of different societal status, occupations, and beliefs act. It might as well be a documentary with its accuracies. They helped highlight our societal flaws and tendencies using satirical comedy. 
I would easily rate this movie a 9/10 and recommend it to friends and family. Especially those with a sense of humor about the world and won't take offense to the pokes of fun the film makes towards mankind and how we operate. The type of humor the filmmakers used to get their point across would be most understood and appreciated by teenagers and young adults. I was laughing the whole time watching this movie, but also got frustrated seeing how we as a society prioritize important things from irrelevant things. Overall, Don't Look Up is a comedic reminder that humanity will truly never agree on anything. Even if it is certainty itself.