What is the Culture of LHS?
EDITOR'S NOTE: This article is one in a series based on a survey created by the student reporters of the Devil's Advocate. The following article is also by the student reporters of the Devil's Advocate. 
Following an editorial by an LHS class of 2015 graduate in the local newspaper accusing Leominster, and LHS,  of being racist, the students of the Devil's Advocate decided to send a survey out to students and staff to measure the culture of LHS.
Are the concerns raised by the former student that allegedly occurred in 2015, reflected in today's LHS? 
With permission from the Principal, the staff at the Devil's Advocate created a survey that was sent out last month and the responses were both surprising and concerning. Please note that the responses were anonymous. We could tell if a specific answer was from a staff member or a student, but nothing more.  Here is what we found. 
Out of the 2000+ population of LHS, 266 people responded (44 staff, and 222 students).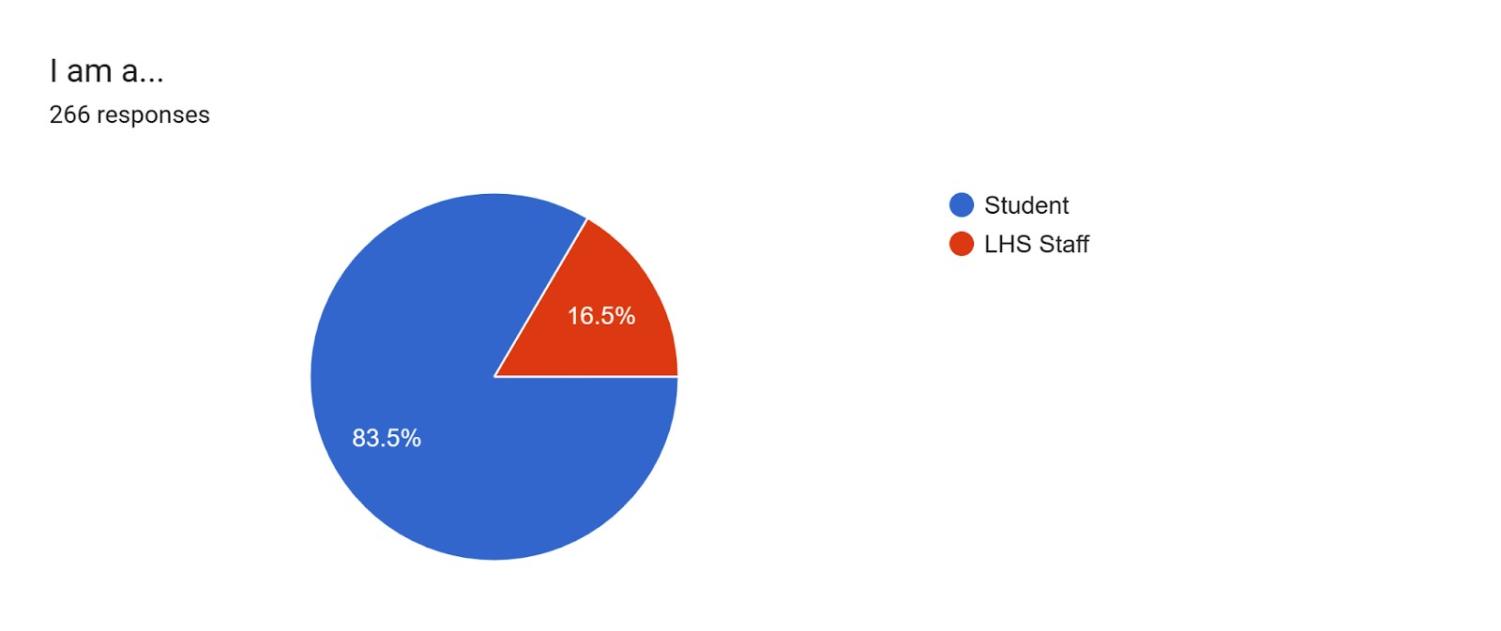 We asked LHS Principal Dr. Joshua Romano of the low number of responses and he said that "If you choose not to fill it out, you've given your opinion. You don't care or you are fine with the status quo." 
He did say that the 266 who did respond is a large enough number to glean some information and supported the process, adding "It's important to ask the tough questions and they are tough questions." 
The first question: Have you witnessed racism at LHS? 
Out of those 266 responses, 62.4% of people answered yes that they had witnessed racism by a student and 35.7% reported they witnessed racism by a teacher at LHS. 
For the charts below blue is Yes, Red is No.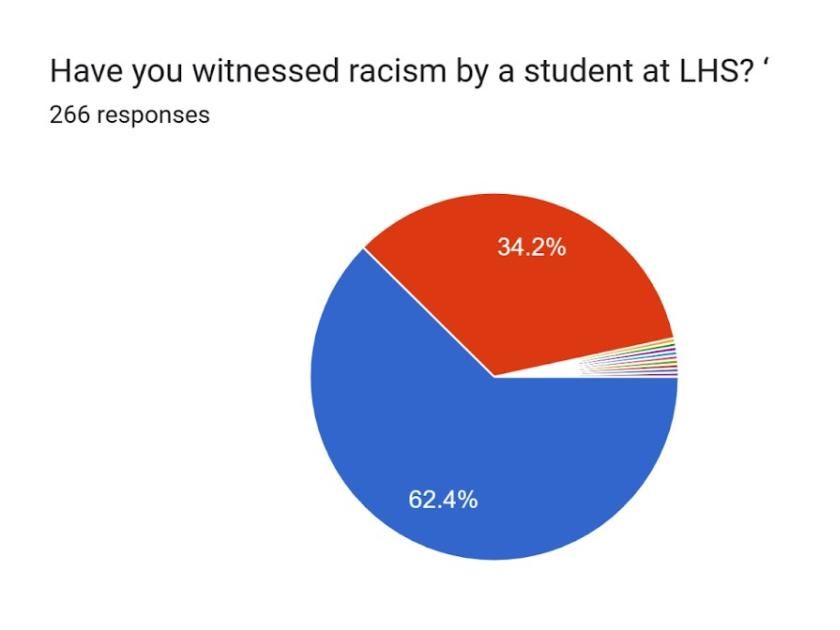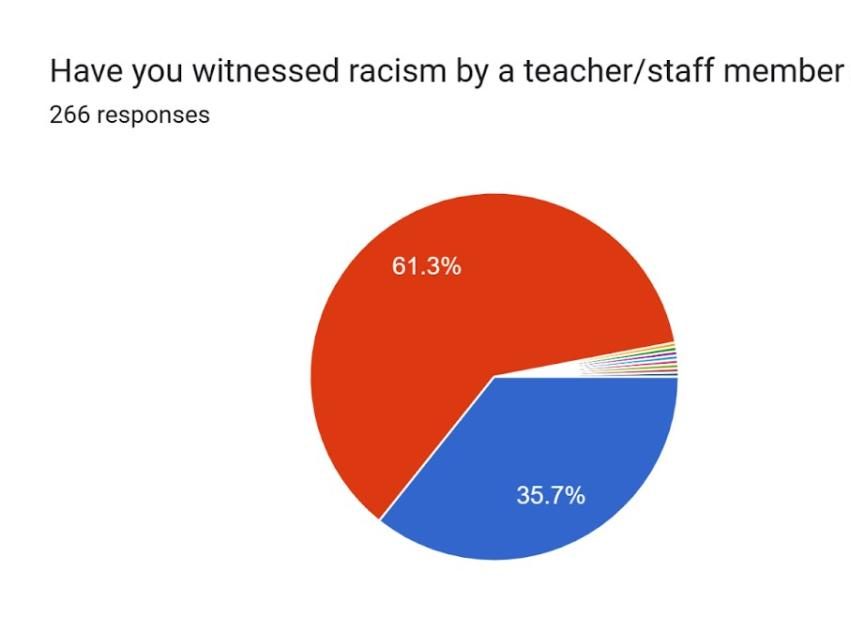 Broken out for just staff responses, 52.5% of staff at LHS reported that at some point in their teaching career at LHS, they witnessed racism from a student. One teacher said, "I hear inappropriate/racist language from students, but I don't think they see it as inappropriate."
One student supported the staff comment, writing "Yes, it's a joke and we are all fine with it." 
As for hearing staff make comments, the same group when asked if they as staff had witnessed racism by other teachers or staff, 20% reported they had actually witnessed racism, with more than one teacher reporting they had heard students talking about times when they heard racist comments made by other teachers. One student respondent said they saw a teacher single out only black students for talking. 
One of the more concerning comments made in the survey was from an anonymous staff member who wrote the following quote: 
"Racism is a huge problem, but not just with one population. That population is strong and LOUD, so they are heard. All resources go to them. None go to any other race. Why do you have a Black Heritage Club and no other Race Heritage Clubs? Why do you have talks for Young Black Women? Every race has struggles to overcome. Yes, it is very important to know our history, but more importantly our future and how everyone is going to play a part in working toward peace TOGETHER, not pointing out what went wrong in the past and the indifferences of our skin color!"
It should be noted the school has several diverse clubs including French Club, Latin Club, Dance Club, Chess Club, Mock Trial, Debate Club, Student Government,  Psychology, SkillsUSA, Sewing, Anime, and countless others. 
LHS Math teacher Tracey Perkins, Advisor for the Black Heritage Club, responded when told of the quote with  "There has always been other ethnic group clubs besides (Black Heritage). It's a matter of having the advisor. Nobody wants to advise anything."
Dr. Romano said of the anonymous quote "It is a little worrisome," that someone would feel that way. "If you feel discriminated (against), I would welcome whatever club people want. I will totally support anything that brings kids a stronger connection to the school. It just pays dividends." 
When the survey asked if they personally had ever made racist comments, the response was much different. Again, red is no and blue is yes.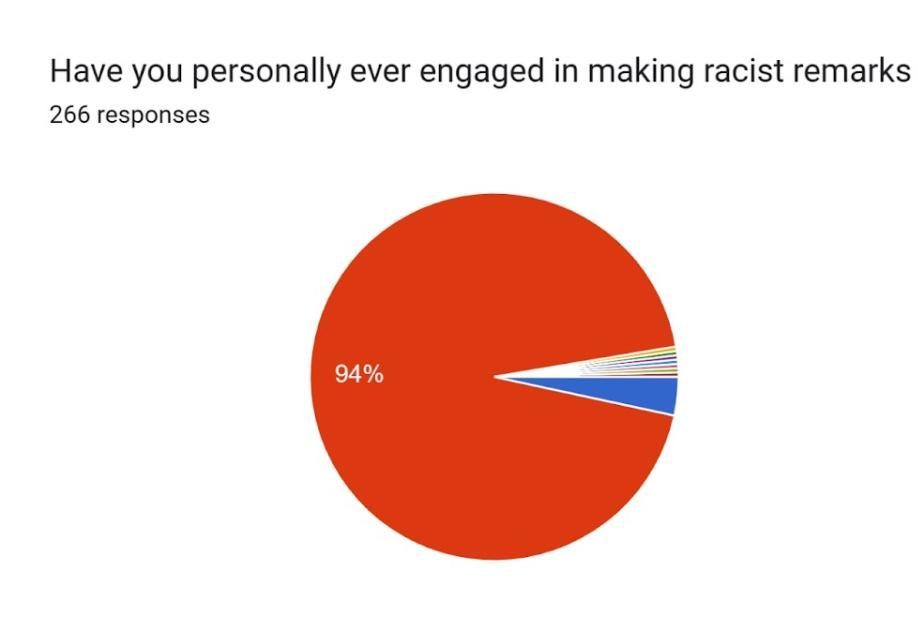 A surprising result considering the response to the question "Do you know someone personally at LHS who is racist.  Again red is no and blue is yes.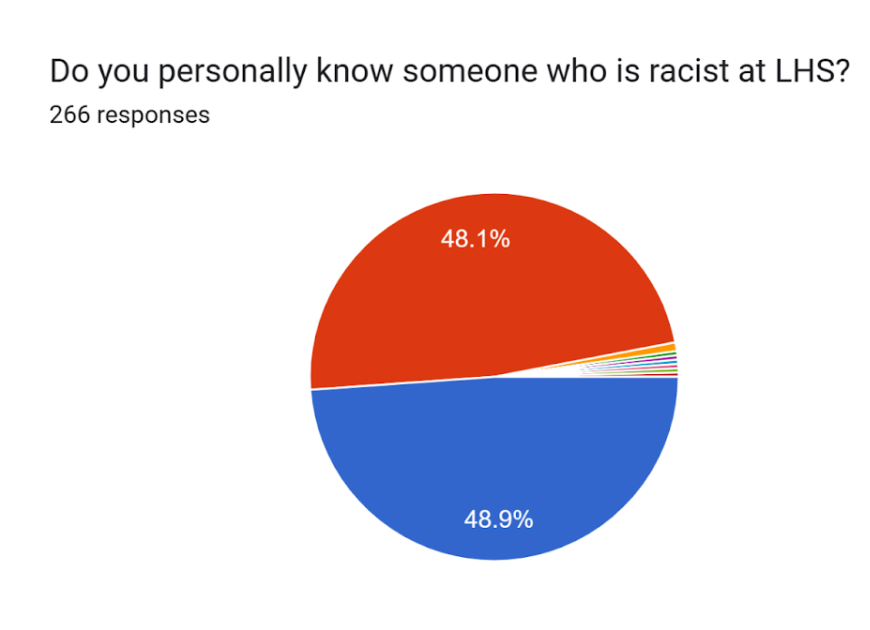 The survey also asked if they witnessed racism, did they report it? Over 54.5% said no they did not report it, while 18.6% said that they did. The remaining had individual comments about why they did or did not report it. Again red is no, blue is yes.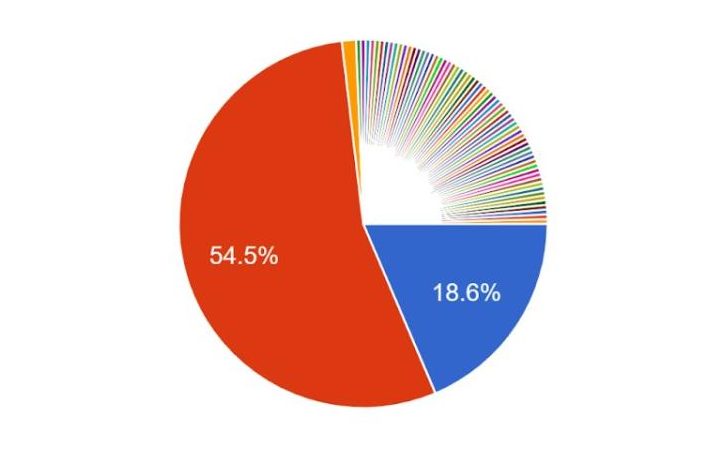 Some of those comments about the results included "I have encouraged students to speak to the appropriate administration," and "Some instances I have reported to teachers, others I have not," and "Most of the racist remarks were from friends." 
This is part one in a series. Part 2 will look at gender and religious discrimination and a look at some of the underlying causes why these things may go unreported according to the survey results.  
Dr. Romano responded to the results stating "We need to find ways to make everyone feel welcome here."