The Perfect Chocolate Easter Egg
Hang on for a minute...we're trying to find some more stories you might like.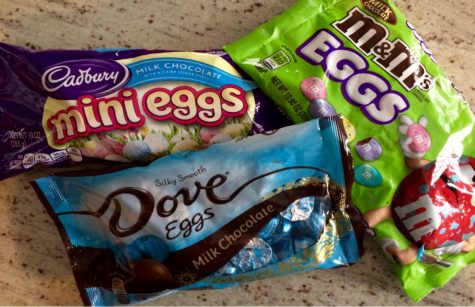 With Easter around the corner, candy companies compete to make your favorite treats. Chocolate eggs
are a classic Easter themed candy that fill baskets and bellies.
To find out which chocolate is the "top-egg," we taste tested M&M, Cadbury, and Dove milk chocolate
eggs.
Now let's get crackin'.
In a distant last place was M&M milk chocolate eggs. Although the brightly colored candy shell of the chocolate
treat was very appealing to the eye, the overpowering aroma of rich chocolate was too much for the
"nose-buds." The flavor matched the aroma, as a thick chocolate taste dominates the senses.
However, if you can look past the fact that it tastes like an over-sized M&M, the M&M brand milk chocolate eggs offer the best value at $3.24 for 10.9 ounces.
In close second place was Dove milk chocolate eggs. Once you get past the pesky wrapper, the chocolaty
goodness that awaits is well worth it, making it seem like each candy is a wrapped present.
Dove's chocolate was egg-stremely rich and creamy, topping all of its competitors.
However, the lack of chocolate aroma, the rather un-festive appearance, and the annoying wrapper keeps it out of first place. Nevertheless, if you are looking for an elegant chocolate egg-sperience, then consider Dove among your top choices.
Dove offered the worst value at $3.24 for 8.87 ounces.
The winner of this candy-contest was Cadbury milk chocolate mini eggs. Cadbury checked all the boxes in
each category. A sweet and chocolaty aroma permeates the air when "cracking" open the bag. Then, festive
pastel colored eggs roll out, showing off their speckled candy shell.
The combination of the sweet candy shell and the rich chocolate makes for an all around festive treat. However, they make you very thirsty – for more!
Cadbury offered the second best value at $3.24 for 10 ounces.
With Cadbury as the "top-egg" in this taste test, they proved true to their motto, "Nobunny knows Easter
better than Cadbury."