Health Fair Comes to LHS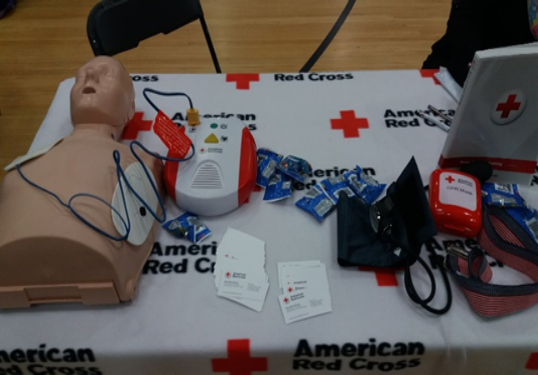 On Tuesday April 11, the LHS wooden gym was filled with information stands to help spread the theme of wellness and health to all the students.
Students had the option to visit a variety of stands, all involving some type of health or wellness information. These stands ranged from bodily and oral hygiene to mental health treatment services for drug use or mental illness.
One returning organization was the American Red Cross. Here, the administrative coordinator of nursing assistance, Mary Ellen Kilbreth, sat in front of a half-body torso mannequin and demonstrated how proper breathing senses worked.
UMass Memorial Health Alliance hospital included a set up with two pig lungs, one healthy lung, and one that has been affected by over forty years of smoking, to show what the results would look like.
The two lungs were hooked up to an air compressor that would pump air in, giving students the chance to feel each one with a glove to feel the difference        between a healthy lung and one that was ruined by smoking.
The Stop Addiction in Its Tracks stand presented by the Massachusetts Department of Public Health also acted as an aid for support to help students keep away from drugs and understand the consequences of drug use.
The LHS club Best Buddies provided information for how students could get involved with leadership development for people with intellectual and development disabilities. Those interested were encouraged to visit bestbuddiesonline.org.
Leominster Crime Stoppers Incorporation provided a stand encouraging students to stay dedicated to create a safe and healthy community in Leominster. This program is run by several board members including Mayor Dean Mazzarella in hope for a positive outcome.
The health fair at LHS is an annual tradition that provides resources for students on varied topics such as Alcoholics Anonymous, Ala-Teen, Upward Bound, and others.