LHS Theatre Company earns spot in METG Seminfinals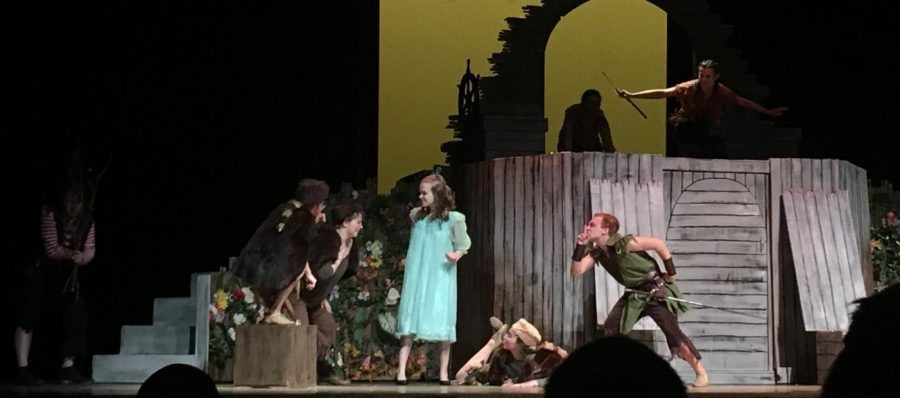 Rebecca Hess, Reporter
March 6, 2018
Just last winter,  Leominster High School's Theatre Company brought Peter Pan and Neverland to LHS. This month, they return to Neverland with the play Forgotten for the Preliminary round of the METG One Act Drama competition.
The story takes place five years after Peter Pan, and all your favorite characters make a reappearance.
The story began with Gwendolyn, who was known as Wendy in Peter Pan, played by LHS Senior Erin Adams, being torn between what's real and what's fake. She can't tell which categories her memories of Neverland fall under. While those around her are telling her to believe one thing, her dreams and nightmares are telling her another.
Peter, played by LHS Freshman P.J. Doherty, is referred to as O'Connor throughout the play. He's introduced through Wendy's two brothers, John played by LHS Junior Rory Young and Michael played by LHS Freshman Elijah Corbin. Though they met in Neverland five years ago, no one remembers one another.
Gwendolyn is attending a private school where her nightmares occur. But when she jumps off a balcony and flies she realizes that all she's thought she made up was real.
She attends therapy sessions by Dr. Holder, played by LHS Senior Brennan Aubuchon, who is also played Captain Hook. He uses hypnosis to convince Gwendolyn her memories are fake.
It takes meeting up with O'Connor to realize that what she experienced was true, and not something to be ashamed of.
I would give this play 4 stars out of 5. This play looked beautiful and was executed perfectly.
Natalie Dombrowski and Ryan Hartman won awards for costume design, while Rebecca Sauer, Rebecca Lambert, and Erin Doyle won awards for set design at their festival showings.
One criticism was that at times, the play was a little hard to follow. Also, plot holes existed regarding how neither of Gwendolyn's brothers remembered Neverland and just how did Peter, Tinkerbelle, and Captain Hook get to where Gwendolyn resided?
Overall, this play showcased how amazingly talented the LHS Theatre Company is. Though this was the last festival for this year's seniors, they still have the All School play called Love/Sick to look forward too.
The following students took home awards in the Preliminary round:
Excellence in Acting for the role of Wendy – Julia MacFarlane, LHS Senior
Excellence in Acting for the role of Peter – Ryan Hartman, LHS Senior
Excellence in Acting for the role of O'Connor – PJ Doherty, LHS Freshman
Excellence in Acting for the role of Tabitha Knell – Marilyn Wilson, LHS Freshman
Excellence in Set Design – Cris George, Erin Doyle, Rebecca Lambert, Rebecca Sauer
Excellence in Costume Design – Rebecca Lambert, Ryan Hartman, Natalie Dombrowski, Leila Cucchiara