The Spirit is Strong in Puerto Rico
Hang on for a minute...we're trying to find some more stories you might like.
Puerto Rico, known for its scenic beauty as well as its historic landmarks, now finds itself covered in a wreckage of debris left after Hurricane Maria, a category 4 hurricane, caused hundreds of deaths as well as a property loss of over an estimated $94 billion to the island of Puerto Rico.
A great amount of hurricane relief has been sent to Puerto Rico in hopes for a strong recovery on the island. But to this day, homes, businesses, historic structures, and rainforests still are victims to the hurricane.  Portions of the island still remain without power; but slowly, piece by piece, Puerto Rico is recovering.
Last month, I spent my April school vacation with a group of fellow students from Leominster High School and Murdock High School in Winchendon in Puerto Rico helping to repair some of the damage left behind by Hurricane Maria less than a year ago.
This experience was eye-opening.
Merely hearing about the amount of destruction that took place on the island and even seeing pictures of the disaster does no justice to actually being there. The real impact comes from the story of the people in Puerto Rico, and how their everyday life functions around rebuilding their once beautiful island.
When we arrived, our group drove towards the rocky northern coast of La Perla. This smaller section of Puerto Rico was once looked upon as "the ghetto" due to its bad reputation of violence from drug and alcohol abuse. But it soon acquired a cleaner reputation after a great attempt to demolish that poor image after gaining much publicity from the filming of Justin Bieber's music video for "Despacito." Just as this part of Puerto Rico began to gain respect and recovery from its rough history, the hurricane demolished all of their progress and reduced the community to a greatly depressing sight.
Upon our entry to La Perla, the feel in the air was something I'd never felt before. All the citizens seemed so close and neighborly. Everyone continued with their normal lives even though all around them was destroyed. Despite living in this destruction for months, the attitudes of the people we met were hopeful and motivated.
I met a local citizen who owned a house right on the water. His name is Roberto. Even though his house was completely demolished by Hurricane Maria, throughout my entire time spent with him, I never saw a smile go away from his face.
Our volunteer group showed our respect to the citizens of La Perla by helping clean up some of the remaining debris from Roberto's backyard right on the Atlantic Ocean shore. Upon first glance, it was awe striking to see how much debris was still there considering the hurricane took place months ago.
Roberto told us that what we saw of the debris was only about a quarter of what was originally there. I tried to wrap my head around what that must have looked like, to have that much of debris from my own home after a disaster such as this one, I just couldn't picture it. However staying true to himself, Roberto remained positive and said with optimism that every little piece at a time, it is getting cleaned and will be soon.
Upon picking up wreckage and sifting through the debris, I came across a Barbie doll, a toothbrush, a bathtub, and many other innocent items that many of us take for granted every day.
This was the greatest eye opener for me. How were the citizens like Roberto able to stay strong and carry on from this? I quickly discovered it was not by moaning about it, but by staying strong together.
Simply seeing how friendly they all were towards each other and how positive and faithful they all were, inspired me to not take what I have for granted and to treat others as they treated each other there. This sense of faith and strength among the citizens of La Perla is what has led to them to start bringing Puerto Rico back to its beautiful self through the rebuild.
Roberto, along with the other citizens of La Perla had a certain sense of strength and hope in them that made me feel so strange when I first arrived there. They were unified, standing as one to get through this difficult time. They chipped away a little at a time with cleaning up the debris and wreckage, but still managed to go about their everyday lives.
I saw elementary students getting off the bus coming home from school. I saw neighbors out walking dogs. Everyone managing to continue to move forward.
I don't share this with you to bring sorrow. I hope for this story to be an inspiration about how the right attitude can go a long way and to also provide perspective about how people in Puerto Rico continue to stay strong and function after these unfortunate hurricanes.
I will never forget my time spent there, I will also never forget the strong presence of Roberto, and how he always managed to smile and remain faithful throughout this crazy journey he has been on.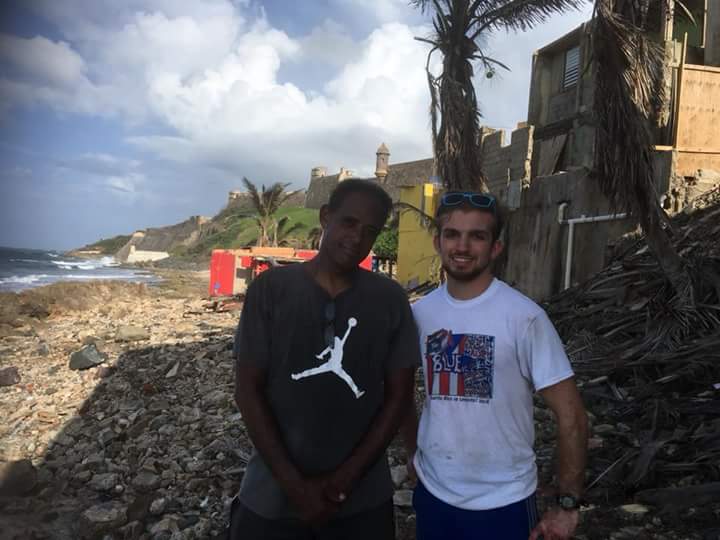 Roberto (left) with LHS Senior Nick Malm.