2019-2020 School Calendar Released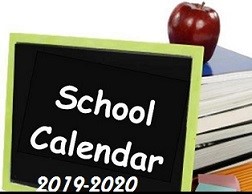 The calendar for the 2019-2020 School year has been released by Leominster Public Schools.
The first day for teachers is August 26th while the first day for students will be August 28th. First day for students in Prekindergarten and Kindergarten is September 3rd.
There will be no school on the days of September 2nd due to Labor Day, October 14th due to Christopher Columbus Day, November 11th due to Veterans Day, November 27-29th due to Thanksgiving break, January 20th is Martin Luther King Day, and May 25th because of Memorial Day.
Professional Development days where no students will be allowed are on the days of November 5th, February 3rd, and March 9th.
Half-Days for students will be held on September 18th, October 2nd, November 25th and 26th, December 4th, April 1st (no that's not a cruel joke), and June 1st.
December Vacation will be from December 23rd to January 1st. February Vacation will be February 17th through 21st, and April Vacation will be from April 20th to April 24th.
Last day for Students and Teachers is June 12th if there are no snow days. If there are 5 or more snow days, the last day will be June 19th.