Boys Volleyball Team Qualifies for Playoffs for 3rd Year in a Row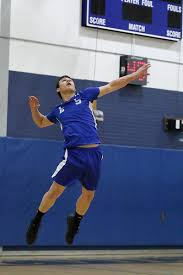 Devin Allen, Reporter
May 16, 2019
The Leominster High School Boys Volleyball team has qualified for the state's competition for the third year in a row. Over the past five years, the team has qualified for states four times.
In order to qualify for states, the volleyball team needs to win 9 of their 18 games. Currently, they have a record of 11 wins and 2 losses.
John Antonetti, the boys volleyball coach, said "I feel like it is a very talented team that could possibly do a lot of damage during the playoffs…They have an excellent attitude when they're on the court".
This is Antonetti's seventh consecutive visit to the volleyball playoffs, after the girls team qualified last fall.
Ruchit Patel, LHS senior and team member, said "I think talent-wise we are doing great, and our biggest limiting factor is ourselves. Responding to adversity is our biggest downfall."
The volleyball team has two upcoming games against Keef Tech on Thursday and Algonquin on Friday. Patel said he is looking forward to the Algonquin match, saying "They are a great team, but I feel like we could still beat them if we worked together like we usually do."
When asked about how he felt about next season after the class of 2019 seniors leave, Antonetti said "A few of our current Juniors have been playing really well, but we might not  get enough players to have a full team next year since boys volleyball isn't a popular sport."